At the end of June, my husband and I took a road trip to assist some elderly family with moving. We planned some stops along the way to eat lunch and stretch our legs. One stop, in particular, piqued my interest before we even left Sarasota: The Jefferson Hotel in Richmond, Virginia. Inside the hotel is a marble-clad restaurant called "Lemaire". I perused the menu, discovering the restaurant's logo was an illustrated head of an alligator poking through the top of the water. What do alligators have to do with Richmond?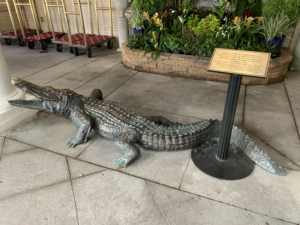 The Jefferson Hotel, named after the third United States President, Thomas Jefferson, opened in 1895. The dream of a Dutch immigrant turned tobacco baron, Lewis Ginter, the hotel has been host to celebrities, U.S. presidents, and internationally renowned musicians and writers. But perhaps the most unusual guests were the alligators. 
The check-in lobby called "Palm Court" features a marble fountain that once was home to "pet" alligators. According to the hotel, both Richmonders and hotel guests would drop off alligators they had gotten as souvenirs during their visits to Florida once the reptiles grew too large to keep in sinks or bathtubs. And it makes sense that alligators would be abandoned at The Jefferson Hotel; Richmond is a halfway point between Florida and New York. The last alligator to live at The Richmond Hotel, Old Pompey, died in 1948; today, a life-size bronze statue of him greets you outside the valet stand, along with small bronze alligators in the fountain. 
Animal cruelties aside, this strange connection to Florida was intriguing and I could not help but fall down the history rabbit hole.
Long before the internet and the widespread availability of photographic books, alligators were both attractions and curiosities to Florida tourists. It was quite common for postcards to feature alligators as a way to advertise the "exotic" and "tropical" state. Visitors could pose with taxidermied alligators, or buy products featuring their tanned skins. Alligator farms (which is a whole topic for another day) dotted Florida cities, and families could watch wide-eyed as farm guides held open the mouths of large gators to show their many sharp teeth. And, unfortunately, the sale of baby alligators as pets became common.  Because of this practice, the urban legend of alligators living in the sewers of New York City bubbled up and has stuck around ever since. Needless to say, sewers are extremely inhospitable places for alligators and no live gators have ever been reported by sewer maintenance workers. 
The tourist appetite for alligators during the early 20th century caused these iconic reptiles to nearly go extinct. In 1967, laws preceding the Endangered Species Act deemed the American Alligator in danger of extinction, and the United States Fish and Wildlife Service (as well as state and local wildlife agencies) began monitoring population levels. Twenty years later, alligators were removed from the Endangered Species List, but continue to be protected under law.
Being from Florida (and yes, they did teach us in school to zig-zag run away), I have a particular fondness for these creatures. I am glad they are protected and no longer being transported across state lines for tourist fodder. (P.S. – I highly recommend the novel "Carrying Albert Home" by Homer Hickam, which tells of a young couple on a quest to return a pet alligator back to Florida.)