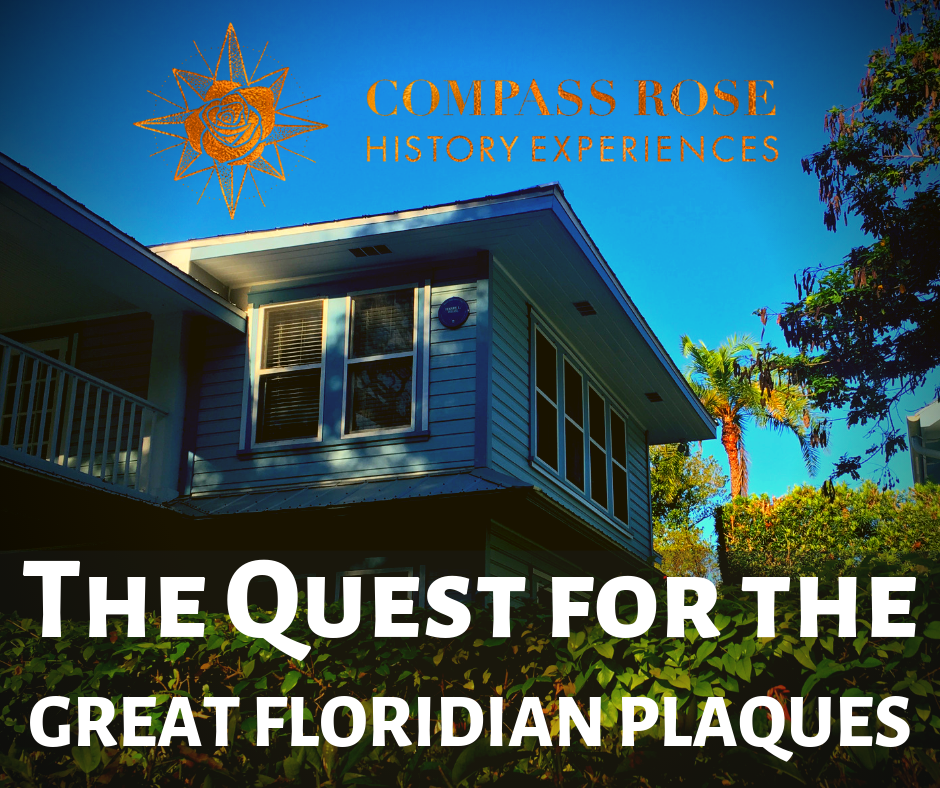 In 2000, the Florida Department of State and the Florida League of Cities created the Great Floridians Program to celebrate the people who made a significant contribution to the culture of Florida through philanthropy, public service, or personal or professional service. Nominations were accepted in 1999 and put to a committee of state historians.
In Sarasota, there are 14 people who were given the accolade of Great Floridian. This came with a small circular plaque with their name that was to be displayed in an historic location that represented their contribution to the state.
I decided to find all of these. Here is that quest in alphabetical order.
1. Owen Burns (1869- 1937) – Could not locate
Owen Burns was known for building Sarasota. He had a real estate and a construction company. His contributions include the Ringling Causeway, a seawall, street paving, hotels, and many homes.
Most Sarasotans would recognize his name from Burns Court or the restaurant Owen's Fish Camp. His Great Floridian plaque was listed as on display at 401 Burn Court. It is not there. What makes this missing plaque doubly disappointing is that it was supposed to be next to Thomas Reed Martin's (see below) plaque. This pairing of Great Floridian plaques would have been a beautiful tribute to collaboration.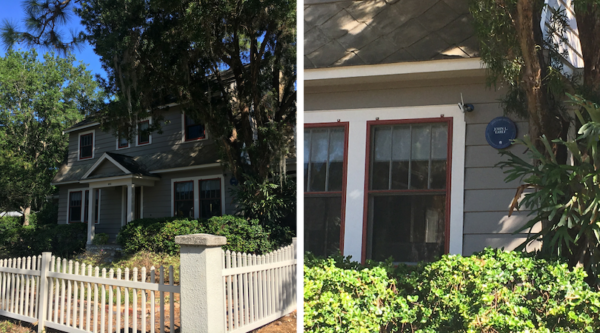 2) John L. Early (1896 – 1999) – FOUND at 1841 Oak Street
John Early was an early lawyer in Sarasota who served as a state representative and mayor of Sarasota. He was also instrumental in creating Myakka State Park and the first four-lane highway in the area.
His plaque is located on his home in Laurel Park on the corner of Oak and Madison (in the middle of another Owen Burns housing project). That home was for sale on the day I went on my quest, therefore I had to see what it would cost to own this piece of local history. At $750,000 it is out of my budget. I do hope whoever buys this home appreciates its significance and leaves the plaque in its place.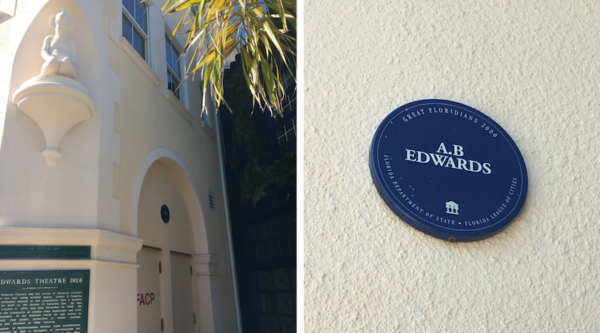 3) Arthur Britton Edwards (1874 – 1969) – FOUND at Sarasota Opera House
A.B. Edwards was perhaps one of Sarasota's biggest fans. This native Sarasotan opened the first real estate and insurance offices, served as the tax collector, mayor, bank director, and president of the Citrus Growers Association just to name a few. He also built the Edwards Theater (now the Sarasota Opera House) in 1926.
Edwards' plaque is displayed on the Opera House on the corner of Pineapple and First Street near the sign and the opera imp.
4) John Hamilton Gillespie (1852- 1923) – Could not locate
Gillespie's father owned the land of Sarasota and in 1886 he sent his son from Scotland to work out the kinks of this new town (and there were a lot of them). J. Hamilton Gillespie basically created Sarasota. He had streets and major buildings completed and then served as attorney, real estate agent, justice of the peace, and mayor. He also brought the game of golf along with his from Scotland.
His plaque is supposed to be located at City Hall. I did not find the plaque on the outside of the building, but I am hoping that the City of Sarasota understands the importance of honoring the man that created the town and has the plaque displayed inside somewhere. If anyone finds it, please let me know.
5) Dr. Joseph Halton (1881 – 1963) – Could not locate
Dr. Halton was a doctor who came to Sarasota in 1907. He and his brother founded the Halton Sanitarium and later he built a 30-bed hospital. He was recognized in 1951 for performing over 1600 free operations and providing care to needy children.
Dr. Halton's plaque is supposed to be on his home.  According to the Great Floridians information his home is located at 310 Cocoanut Ave. 310 Cocoanut is now an empty lot, but other resources site 308 Cocoanut as his home. Regardless, I was not able to locate the plaque.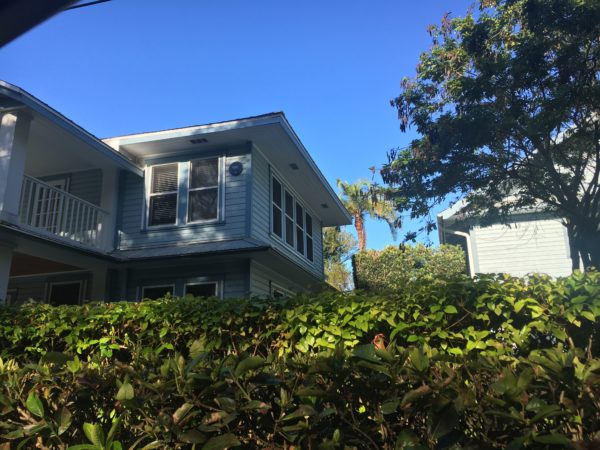 6) Harry Lee Higel (1867 – 1921) – FOUND at 3308 Higel Ave
Harry Higel had a dock in Sarasota where he operated a boat service and ran a mercantile business. He also worked with Gillespie on land sales, served as mayor, and developed Siesta Key. In addition, his murder remains one of Sarasota's most notorious unsolved mysteries.
Higel's plague is located on his home on Siesta Key which also happens to be for sale! At $2,385,000 this one makes the Early house look like a steal!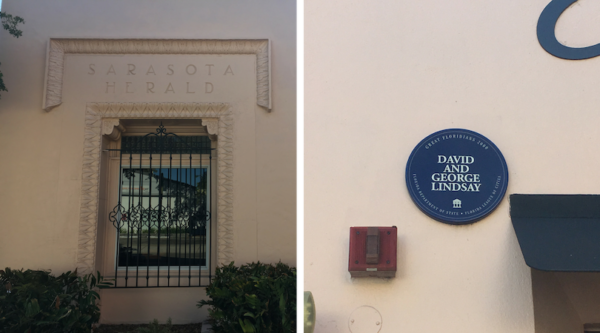 7) David and George Lindsay – FOUND at Sarasota Herald Building (now The Exchange)
Father and son team George and David were early Sarasota journalists. David established the Sarasota Herald in 1925 and his father George served as editor. The paper merged with the Sarasota Tribune in 1938 and David continued as publisher of the combined paper until his death in 1946.
The Lindsays' plaque is perfectly displayed on the Sarasota Herald Building (now the Exchange) along Orange Ave.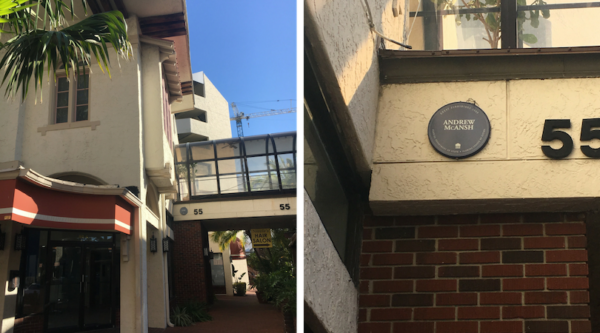 8) Andrew McAnsh (1886 – 1946) – FOUND at Mira Mar Apartments
In the early 1920s, McAnsh struck a great deal with Sarasota. He agreed to quickly build three structures that were needed in Sarasota: a hotel, apartment building, and natatorium (indoor pool). And he did it! In only 6 months the Mira Mar Hotel was complete. In return for this contribution to the young city, McAnsh did not have have to pay property taxes, water, or electric for ten years. After the success of the hotel, he built the apartments and an auditorium (which they decided was more useful in Florida than an indoor pool).
The Mira Mar apartments still stand (they now house many businesses and restaurants) and Andrew's Great Floridian plaque can be found on the building just north of Caragulio's Restaurant on Palm Ave.
9) Thomas Reed Martin (1866 – 1949) – Could not locate
Thomas Reed Martin was an architect that came to Sarasota in 1911. He designed many buildings that we still love today such as the Municipal Auditorium and over 500 homes! He notably worked with Owen Burns on the designs for Burns Court.
And his Great Floridians plaque should be in Burns Court next to Owen's, but alas, this was another one that I could not locate.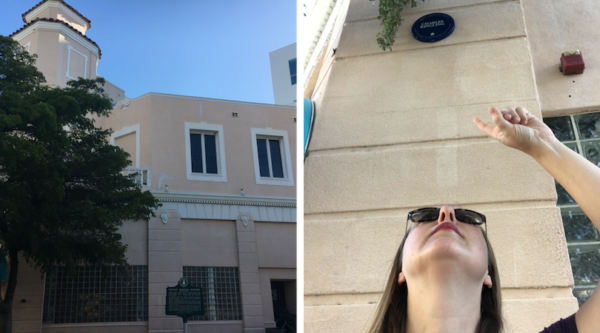 10) Charles Ringling (1863 – 1926) – FOUND at Charles Ringling Building, 1927 Ringling Blvd
I could write a book about my love for Charles Ringling (at the very least you will get a full blog post about him). Charles was beloved by the circus employees and was instrumental in establishing Sarasota's business and commerce in the early 1920s. Ringling Blvd is named in Charles' honor.
And on Ringling Boulevard you will find his commerce building and his Great Floridians plaque.
11) John Ringling (1866 – 1936) – Not on display
While his brother was focusing on developing the early business and commerce of Sarasota, John was focused on the residential developments and the arts and culture of the area. He developed St. Armand's Circle and had the causeway built out to the key. He also contributed to the community through the display and eventual gifting to the state of his incredible art collection.
John's plaque is listed as being at Ca'd' Zan, his palatial mansion on the bay. Unlike the other plaques that I was unable to locate,  I was able to ask a curator at Ca'd' Zan and was told that it is in the archives. It's a little ironic because I think John would love the title of Great Floridian!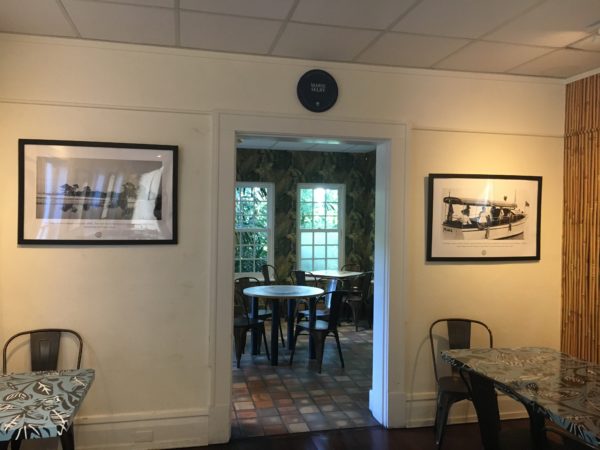 12) Marie Selby (1885- 1971) – FOUND Selby Botanical Gardens
Marie was a musician, botanist, and adventurer. She was the first woman to drive cross country in an automobile and won the Express Cruiser Yacht race in 1927. Marie willed her beloved gardens to the community and it has become an incredible place for the living arts.
Marie's plaque is the only one that you need to pay admission to see. But since she is the only woman on the Sarasota list (there would be many more if Mimi and I had our say), and I love to visit Selby Gardens, I decided it was worth the trip. Her plaque is located in her cottage which now serves as a restaurant for the gardens. Personally, I think this is the best-placed plaque of all as it is surrounded by beautiful pictures of Marie.
13) Ernest Arthur Smith (1878 – 1962) – Could not locate
Ernest was instrumental in the reorganization of the Chamber of Commerce in 1922 and served as mayor. He also led the movement to acquire the land for the Municipal Auditorium, airport, and Chidsey Library.
His plaque is supposed to be located at the Municipal Auditorium. I was unable to locate the plaque on the outside of the building, but do still hope that it may be displayed inside somewhere. Although, there is mention of EA Smith on the historical marker on the property.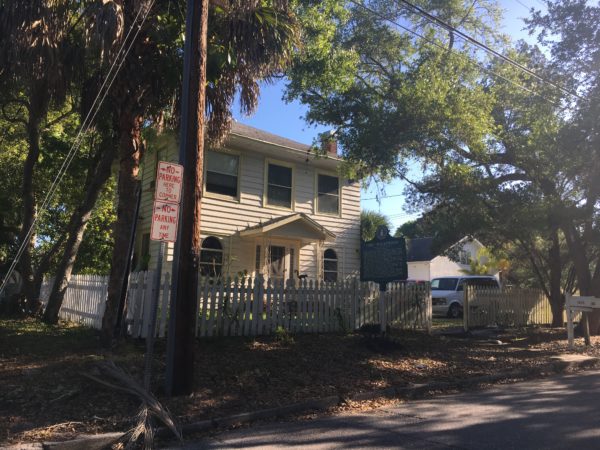 14) Karl Wallenda (1905 – 1978) – FOUND 1622 Arlington Street
Wallenda is the patriarch of the world renowned high wire family. The Great Wallendas were the headliners for the Ringling Brothers circus throughout the 1930s and 1940s. Although Karl died in a high wire accident in 1978, his family has continued the tradition.
His Great Floridians plaque is located on the family home just north of Hillview Avenue.
And there you have it, 8 out of 14. I am grateful for the eight plaques that I was able to discover but am a tad bit disappointed in how many are missing. If anyone finds a plaque that I missed, please let me know. And if anyone has a plaque that is not on display, please hang it up.
If you decide to embark on this quest, keep in mind that most of these plaques are located in high locations. Usually, near the second story of the building.