A while back, I was perusing Florida Memory (a service of the state's Division of Library and Information Services), and a bubbly blonde woman in a 1950s Barbie-esque bathing suit was gleaming at me. Her name: Barbara Bowers.
Maybe it was her impeccably coiffed hair. Maybe it was the white swimsuit with the classic wing bustline (Anyone who meets me can quickly guess that I have a penchant for vintage fashion, particularly from the 1940s and 1950s.)  A dozen photographs of her were available on the site, and I was bewitched. Who was she? Why do we have so many photographs of her in the public historical record?
Down the rabbit hole I went.
Searching old Sarasota newspaper archives, I found that Barbara Bowers was a graduate of Sarasota High School. In her senior year, she was voted both "Most Flirtatious" and "Most Likely to Succeed". Mind you, this was from an article from 1955 and the number of graduating seniors was tiny. Bowers was also the class secretary, a majorette for the band, and a straight-A student. She volunteered. A LOT. Further digging brought me details on her many accolades, scholarships, and awards… including a $150 scholarship from the Soroptimist Club (yeah, I had never heard of that one either). In 1954 she was crowned "Miss Fire Engine" for a benefit where the proceeds went to buy a fire engine on Siesta Key.
Then I found Barbara's name in an article that drove me further down the rabbit hole. In the November 11, 1952 issue of the Sarasota Herald Tribune, a sentence read: "…Kitty Thornton, Hopkinsville, Ky. Miss 1902, escorted by Ray (Diamond Jim) Lucas, cut the city's 50th birthday cake, which opened up to reveal Barbara Bowers as Miss 1952, one of Sarasota's glamorous Sun-Debs."
Ok, now we're cookin'.
The Sarasota Sun Debs were models that were trained and organized by the Sarasota Chamber of Commerce beginning in 1949 as a way of bringing glamour to tourism materials. According to a January 9, 1949 article in the Sarasota Herald Tribune, the Chamber of Commerce hired six local professional women to be the "committee of chaperones" for the Sun Debs. They advertised that young women between 14 and 24 years old could get free lessons in modeling, poise, and photographic posing from these chaperones. In return, the Sun Debs were asked to assist the city in its publicity program. (A little historical context: this type of program was something that Chambers of Commerce in that era commonly did because their role was often tourism development. Now, we have an entire Visitors Bureau, and Chambers solely focus on the business community.) The Sun Debs also took part in many community events, gatherings, and holiday parades. 
While still in high school, Barbara was selected to be the cover girl for the 1954-1955 edition of the Sarasota Chamber's Visitor Guide, which was edited and published by local realtor and Chamber board member, Roger V. Flory. She also graced the cover of Coronet Magazine, a national monthly publication owned by Esquire, in 1956. I particularly love this photo of her from the July 1956 Chamber of Commerce Barboree, with architect Victor Lundy; he designed the pagoda building for the Chamber of Commerce which opened that year.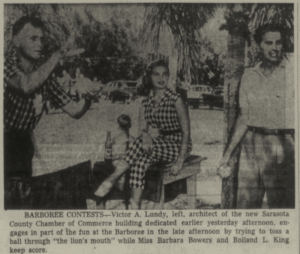 Barbara Bowers went to the University of Florida for college, and honestly, I can't find much about her after that. What I love about this story is how it strikes into the heart of Sarasota's ethos: a small town with six-degrees of separation (or less), that also happens to be internationally known. I like to think about Barbara's beaming teenage face smiling at people from around the country during the mid-1950s who planned to visit our sandy shores, just as she did over half a century later from my computer screen.