The Binz Fireproof Warehouse and Storage Company
1646 10th Way, Sarasota, FL 34236
Binz Lambert Construction
Completed 1926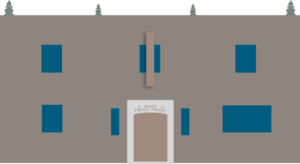 Frank Binz came to Sarasota from Chicago in 1925 and quickly established the Sarasota Transfer Company, Binz Lambert Construction, Binz Cast Stone, and the The Binz Fireproof Warehouse and Storage Company which comes in at #5 on my list.
When the Warehouse was built, it was on the corner of Orange and 17th Street (which is present day 10th Street – at that time the numbered streets started by farther south). Of course, Binz was a smart business person and used his construction company to build the Warehouse.
The building had electric elevators and air tight moth proof vaults to house furniture and clothing. These special vaults were even available to be used for a 24 hour de-mothing process. A truck would come to the client's home and seal the clothing that was to be de-mothed into a locked mobile hamper. This hamper was then placed in the airtight vault and filled with gas for 24 hours and then returned to the owner moth free! It's interesting to think about a time when you needed to de-moth your clothes, but this was pre-air-conditioning.
Initially, I wondered if Binz also used his Cast Stone company to create the decorative finials on top of the building. But then I found an image in the 1927 Sarasota Herald and realized that those were not original. Nor was the now iconic neon sign. I did find another undated picture of the building and the sign said, "Sloan's Fireproof Storage & Moving". This lead me to owner number 2, S. E.(Art) Sloan who purchased the business from Frank Jr upon his retirement in 1953. My best guess is that he is the one who added the finials and sign.
Thankfully, in 2013 Westcoast Black Theatre Troupe purchased the Binz Building and with the help of Willis Smith Construction have created a beautiful education and administration building that honors the history of the Binz Fireproof Warehouse – complete with original vaults!