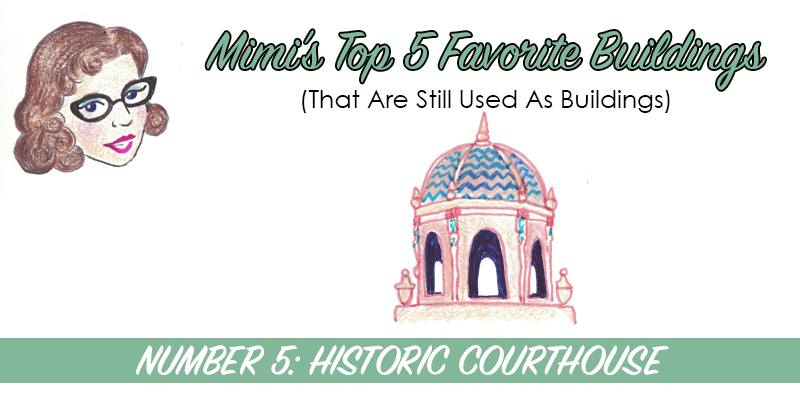 The Historic Sarasota County Courthouse
2000 Main Street, Sarasota, FL 34236
Architect: Dwight James Baum
Built by: Stevenson and Cameron, Inc.
Completed: 1927
One of the first (I'd dare say among the first 10 or so) Sarasota postcards I acquired featured the Historic Sarasota County Courthouse. The view of the postcard was like you were standing on Main Street and US 301 looking southeast toward the corner of Ringling Boulevard and 301. It's a simple postcard, to say the least, but I liked the unusual perspective. (I wish I could find that postcard, but alas, it is tucked away safely in a drawer.)
Apparently, that unusual perspective was shared by many when the Courthouse was first built. According to a September 1926 issue of the Sarasota Herald, the eastern side of the City of Sarasota was considered by many a "rubbish heap". While today we think of that area of town as being the place of police headquarters, attorney offices, and back buildings, there was a time when no buildings stood and mother nature was given carte blanche to do as she pleased. Through the visioning of some prominent leaders at the time, the Courthouse and several surrounding buildings sprung up in an effort to create a new "civic center" for the community. One of those community leaders pushing forward that vision was Charles Ringling – and we all know how Andrea and I feel about Charles. (For those of you new to our blog, Charles Ringling is the bomb-diggity.)
Dwight James Baum, the same architect that designed John Ringling's private mansion (Cà d'Zan at The Ringling), also designed the Courthouse with a similar blending of Spanish and Italian-Renaissance motifs (referred to as Mediterranean-Revival style). The original design featured a lovely reflecting pool in a courtyard, which reflected the iconic central tower in its waters. The building is H-shaped, which you might not notice from driving past. The inside is just as gorgeous as the outside – I am particularly fond of the beautiful terrazzo floors that are inlaid with black, red, and gold stars. 
One of my favorite articles about the Courthouse described an effort to beautify the pool with water lilies and reeds as instructed by the county commissioners. The article nonchalantly mentions an alligator (or possibly two) that chose to sun itself by the pool and needed to be removed. Ah, Florida. 
The building was added to the National Register of Historic Places The Historic Courthouse in 1984. It is now used by the Clerk of the Court, but you can still get married for only $30 by a deputy clerk in the courtyard, one of the restored historic courtrooms, or in the vintage marriage parlor. The Courthouse was recently restored by Hall Architects, and I had the privilege of being given a tour during restoration by the late Gregory Hall; a man who truly appreciated history. I will always cherish the memory of Greg showing our group where they had discovered the word "Sheriff" above the door on the east wing.