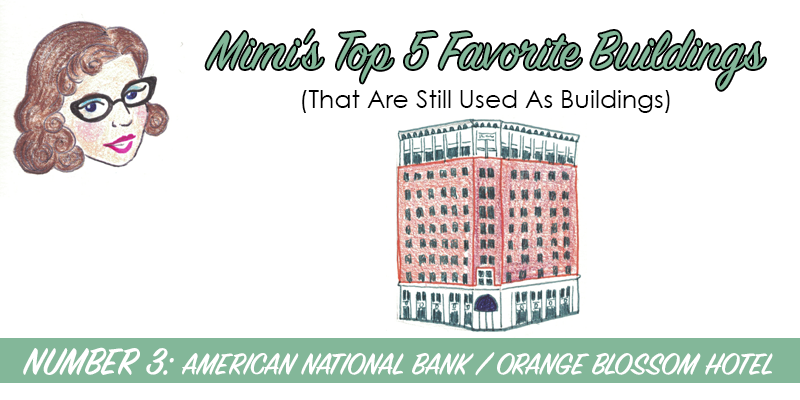 When we first discussed doing this blog series, I knew this building had to be on my list. It's one of those historic buildings that make Sarasota feel like home. I've driven past it countless times. Stared up at it in wonder. 
Designed by Francis Palmer Smith (no relation to Bertha Palmer) in a neo-Classical style, and completed in 1926 for the American National Bank, this is one of the three earliest skyscrapers in Sarasota at 10 stories tall. The bank occupied the first floor, but many other community businesses (namely, attorneys and accountants) rented additional spaces. In the December 15, 1926 issue of the Sarasota Herald, the paper describes how safe the building was, saying, "Excessive winds have twice failed to displace as much as a crumb of plaster, again proving the sagacity of the architect and the meticulous care of the contractor."
But things eventually did crumble for those inside the building. The Great Depression hit everyone in the country hard, and Sarasota was certainly no exception. On May 15, 1928, the American National Bank closed its doors. While other tenants of the building continued to occupy the space (including a First Church of Christ Scientist reading room), it took a long time to bring back the strong spirit of the space embodied by the American eagles on its facade. 
Luckily, in 1936 the building finally reopened as the Orange Blossom Hotel. Purchased by Joseph Spadaro (owner of other hotels in Boca Grande) during the foreclosure proceedings of the American National Bank, the renovated hotel featured 125 rooms, a bar, and restaurant.
For the next 30 years, the Orange Blossom Hotel thrived. Guests of the hotel included the stars of the 1952 film, "The Greatest Show on Earth" during its time filming in Sarasota, and America's Mermaid, Esther Williams. By the late 60s though, tourists were flocking to hotels on Siesta and Longboat Key, so the hotel was converted to apartments and, later, a mixed-use space as it continues to be today. If you're looking for a great book about Sarasota history, I recommend swinging by Bookstore1, located on the Palm Avenue side of the building. Tell the owner, Georgia, I sent you.
The Orange Blossom Hotel/American National Bank building was added to the National Register of Historic Places in 1998.