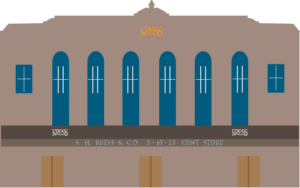 S. H. Kress & Co. 5-10-25 Cent Store
1442 Main Street
Architect: Edward F. Sibbert
Builder: G.A Miller
Built: 1932
Samuel Henry Kress opened his first "stationery and notions" store in Pennsylvania in 1887. By 1896 this had turned into a chain of S. H. Kress & Co. 5-10-25 Cent Stores (yes, 25 cents too!). I am a big fan of five and dime history and could continue to fall down that rabbit hole, but for the sake of this post I will refrain and give all my focus to the gem that is our Sarasota S.H. Kress Store!
Samuel Kress was an entrepreneur who also loved art. He considered each of his buildings as "cvic art". Isn't that just poetic! Because of this he established an architecture division early on in the company to ensure that not only are Kress Stores a work of civic art, but that they are also a reflection of the community that they are in.
Our Kress Store was built in 1932. Yes, that's right. In the middle of the Great Depression, Kress was expanding and therefore employing local contractors and builders to complete the stores and then generating jobs when the stores were complete.
All Kress stores had a few architectural elements that were consistent across all stores. That includes the Kress logo with the letters arched along the bottom (the idea of a logo was still novel at this time), the curved glass storefront windows (that were designed to lead you right into the door) and the brass front doors.
That still left lots of room for creative ways to incorporate the local community into the design.
The Sarasota Kress store was completed during the art deco period of their buildings that were designed by Kress architect Edward Sibbert. But even more specifically, ours was one of only three Kress stores (the other two are in Daytona Beach and Lubbock, TX) that were considered to be a Spanish themed art deco style. The art deco styling can be seen in the long vertical lines, but then you see the Spanish influence in the rain spouts and the roof line.
For our beautiful Kress store, you need to look up to see the community inspired elements. Above the third floor windows are arches that enclose 'S' (for Sarasota) shaped scrolls around an arrowhead (to represent our native peoples) that is in front of a floral and green background to showcase the abundance of nature in our area.
8,000 people showed up for the Sarasota Kress Store opening on November 30, 1932! This was at a time when the City's population was only 8,500. 
The Kress building is still being used as some offices, but, personally, I would love to see it taken back to a place of community and commerce that it was meant to be. Actually, Mimi and I have a grand plan for this space so if any local investors are inspired by this post, give us a call!