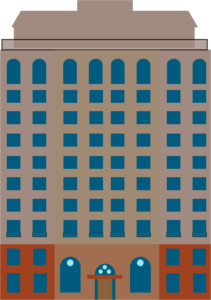 Sarasota Terrace Hotel
101 S Washington Blvd
Built 1925/1926
Architects: Francis Palmer Smith and Robert Smith Pringle
Charles Ringling was dedicated to developing an economic infrastructure for his beloved Sarasota. He opened a bank, donated the land for the courthouse, and built a commerce building. In fact, Ringling Blvd is named in his honor (I have made it my personal mission to ensure that every Sarasotan knows this). 
Charles was a visionary business person and knew that tourism was vital to the growth of Sarasota. In 1925 building began on his Sarasota Terrace Hotel. Atlanta architects Smith and Pringle designed this 9 story Venetian/Renaissance hotel with a rooftop garden. Today we can't imagine the view from that terrace, but at the time, you could see all the way to the bay. 
In 1958, the hotel rebranded as the New Sarasota Terrace Hotel. This included all new modern furnishings and — air conditioning! In 1962 the Chicago White Sox owner, Art Allyn, bought the hotel. The players stayed in the hotel which was next to their spring training fields at Payne Park and Allyn added a baseball motif to the décor. I am not a sports fan, so the idea of adding baseball as décor to this gorgeous hotel is not my favorite stage in its history. 
After 46 years the hotel was closed in 1972. Thankfully, Sarasota County stepped in and has been utilizing the building for County offices ever since. Most of us know the space because the Tax Collector's office is located there. But if you have to sit and wait to renew your license, this is a beautiful place to do that. 
Currently, the County is once again working to maintain and restore the gorgeous building. This includes a renovation of the 10th floor. This floor was originally the terrace, but was closed in to create more office space for the County administration. I have heard a rumor that one of the new conference rooms will be appropriately named after Charles Ringling. I do hope this is true, because Charles deserves credit for his efforts in creating the foundations of our community that we still stand on today. 
As I look back on my top five buildings, I have to admit, I have a type! I am a big fan of the mid-1920's – mid-1930's buildings.