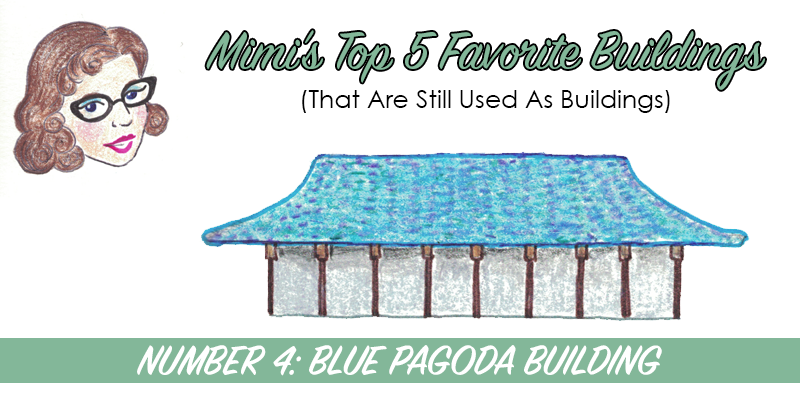 Blue Pagoda Building
655 N Tamiami Trail, Sarasota, FL 34236
Architect: Victor Lundy
Completed: 1956
My Number 4 of my Top 5 Favorite Buildings Still Used as Buildings is the Blue Pagoda, located near the intersection of Tamiami Trail and Boulevard of the Arts. 
Let's be honest: I'm pretty biased about this one. My husband and I were married next door to the Blue Pagoda building (at the Sarasota Garden Club), and the photos of our first look were taken right outside.
But there are lots of wonderful things to love about this striking piece of Sarasota history. Designed by a founding member of Sarasota School of Architecture, Victor Lundy, this 1956 Japanese garden-inspired structure is a sight to behold near the bayfront. Built for the Greater Sarasota Chamber of Commerce, the structure features gorgeous blue glazed tiled from Japan, which local civic leader and author Karl Bickel sought out specifically for this project. Lundy wanted blue tiles in order to reflect the blue waters of the bay that were nearby. 
Glass is a key component of this design and was intended to make those inside the building feel like they were still part of the garden and pond in the surrounding landscape. Cork tiled floors helped reduce noise. 
Prior to moving into the Blue Pagoda building, the Chamber had been housed on the city pier. The organization had long sought a "home of their own", and were keen on the modern design Lundy had prepared. In July of '56, the building was dedicated, followed by a "Barboree" celebration (outdoor annual BBQ for all intents and purposes). There's a great photo of Victor Lundy, Barbara Bowers, and Rolland King playing carnival games at this celebration in an earlier blog post of mine. 
On September 9, 1956, the Chamber invited the public to an open house. The Chamber Manager, Tom Swalm was quoted in the paper as saying that he expected the building to have mixed reviews, but at least everyone would know where it was. I particularly love the contractors and sub-contractors posting ads around this article to celebrate the Chamber opening.
The Chamber didn't stay too long in this building and neither has many of the other businesses and organizations that have since occupied the space. In my own opinion, the exact right business for that space has yet to move in. The Blue Pagoda also isn't yet on the National Register of Historic Places, and I honestly can't fathom why not. Hopefully, our community will step up to preserve it for generations to come.